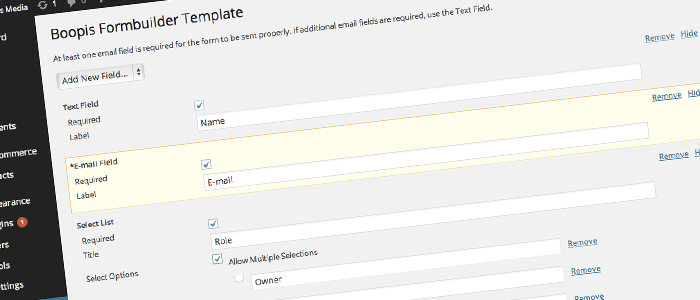 This product has been merged with the free module available on WordPress. It will no longer be maintained. Get the free version with the same functionality.
Add custom fields to your product forms so you get the right information the first time around.
When it comes to making a sale, minimizing confusion and unnecessary back-and-forths makes the sales experience pleasant for both parties.
By asking specific questions with validations to ensure you get all the information you need, you can track, accurately quote, and maintain communication with your leads in the most efficient manner possible.
Features
Sortable fields
Validation for errors
Auto formatting for nice styling
Documentation
You must have WooCommerce RFQ Installed
Upload folder to wp-content/plugins directory of your WordPress site.
Check the "Use Formbuilder" checkbox in the Boopis RFQ Settings admin area
The in the Boopis Formbuilder Settings area, add the desired form fileds. **Ensure that an email field is added as this is necessary for the plugin to work properly