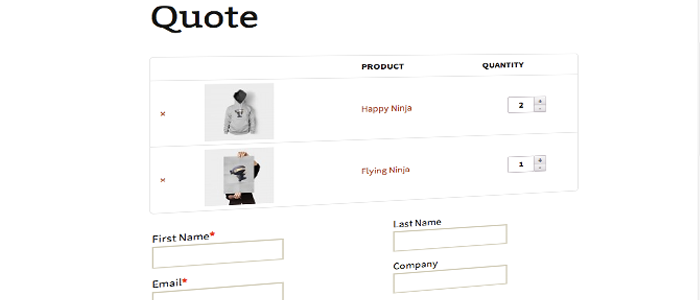 This product has been merged with the free module available on WordPress. It will no longer be maintained. Get the free version with the same functionality.
Allow your customers to add multiple products at once while they build a list of items for you to quote. Reduce the workload for you and your customers so you can concentrate of making the sale.
You can even add services as products and turn those items into a lead generation tool to help you track and manage inquiries.
This is by far the easiest way to manage the complexity of products and services you offer with a hybrid store that isn't limited to only selling simple products
Take control of your store and delight your customers with user friendly features and tools.
Features
Session storage
Quantities
Itemized Option Handling
Documentation
This product requires WooCommerce RFQ
To Install, unzip and upload contents of folder into wp-content/plugins directory. Make sure to change permissions to owner:www-data.
Once activated, the plugin will automatically allow existing zero priced products to be added to the session via ajax
For WP Super Cache Compatibility check the following setting under tha advanced tab: Don't cache pages for known users. (Recommended)